Our Read-a-thon was an amazing success. We are excited to add new seating, books, and shelving.

Reminder Stars- We start our STAAR testing this week! Please look at flyer for information about closed campus! We are ready to rock this STAAR!

We are off to the races with our Annual East Texas Giving Day drive for the Arts Alliance. This year, we want our students to have the option to participate by simply bringing their change by April 26th. These funds help support grow our arts programming and work toward capital investments. This years focus is to get our Stars a cargo trailer to take their talents on the road!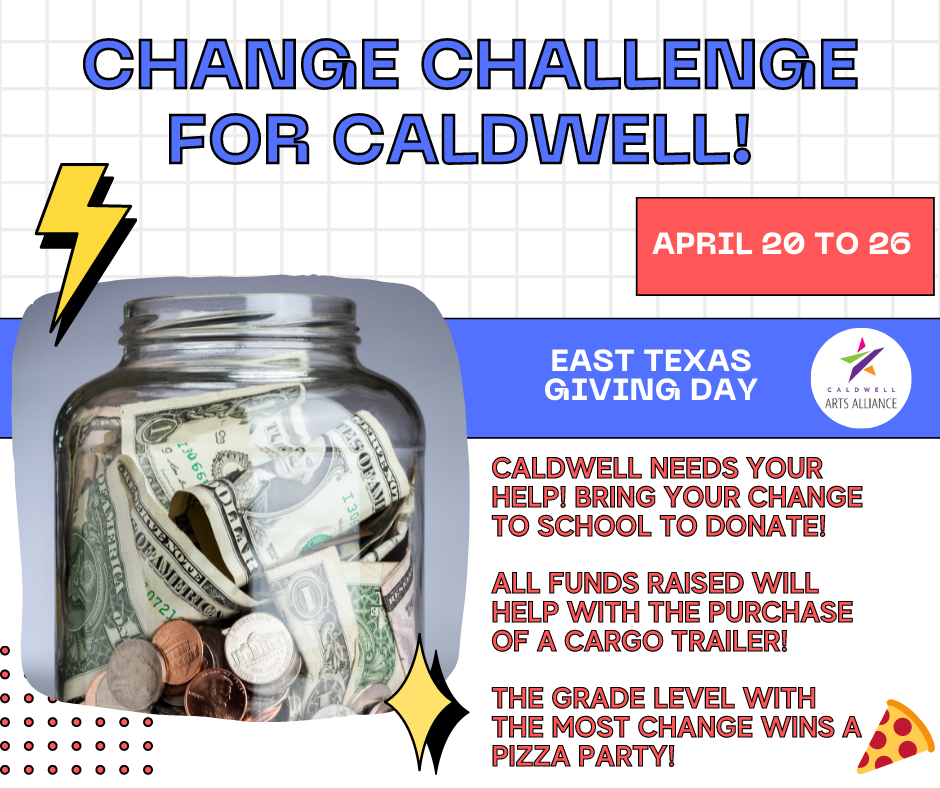 Caldwell Arts Academy is all about reading right now. Would you please tell your friends and family about our Read-a-thon by sharing a quick Facebook post? Click on this link to go to a suggested Facebook post:
https://www.read-a-thon.com/readers/tool/mHGAua/3
Thanks so much, Caldwell Arts Academy

Good Morning Stars! Our Star Band will be hitting the stage at Stanley's Famous Pit BBQ this Tuesday, April 19th at 6:00 PM. Sponsored by the Caldwell Arts Alliance, we are leading up to our annual East Texas Giving Day to help fund the many arts experiences for our Stars. This year, we are working toward getting a Cargo Trailer for our bands and performing groups! You don't want to miss these Stars perform at a family friendly event! Support local!
https://www.easttexasgivingday.org/caldwellarts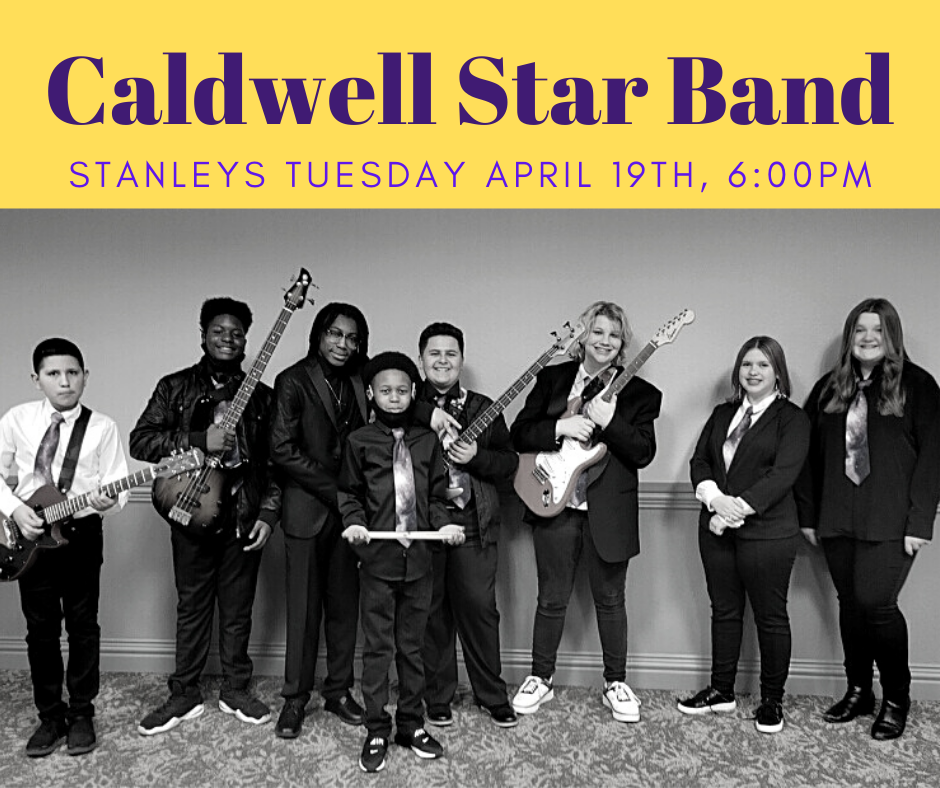 Caldwell Arts Academy parents, we are holding a Read-a-thon and we really need everyone to participate. If you have not already done so, please click on this link to activate your reader's personal page:
https://www.read-a-thon.com/readers/r/mHGAua
K-5 student's enter homeroom teacher's name 6-8 ELA Teacher's Name You can do it all in a minute or two and really help us meet our financial needs. Thanks so much, Caldwell Arts Academy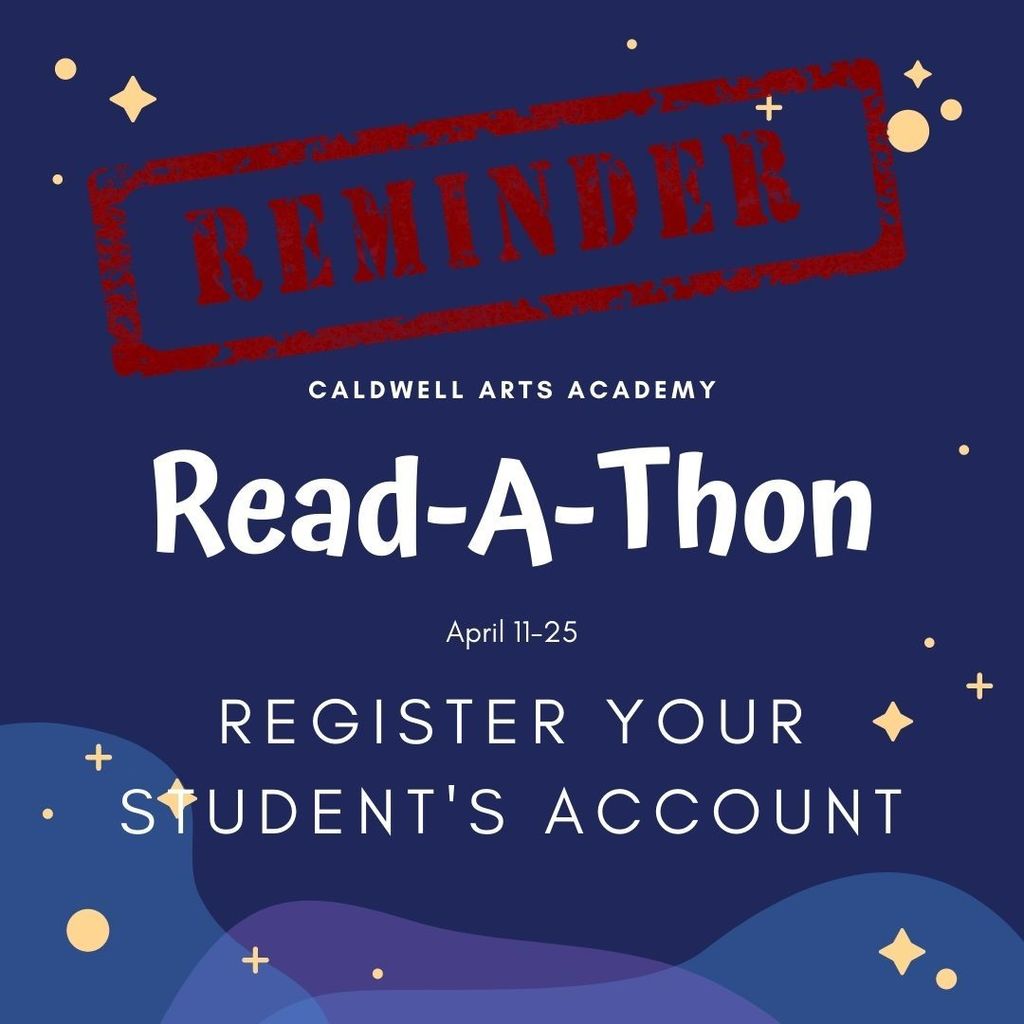 Caldwell's Read-a-thon starts Monday, April 11th. 2022. We are trying to make Caldwell's Library the Best Reading Spot Around Monday's Dress Up Day: Jersey/Team Day Wear your favorite team jersey or colors Please make sure you have registered your students account so they can log their reading minutes and get credit for the minutes they read in class.
https://www.read-a-thon.com/readers/r/mHGAua/1
and following the simple instructions. k-5 enter homeroom teachers name. 6-8th enter ELA teachers name.

Good Afternoon Stars K-5, We were alerted to a technical glitch with brushfire that caused the purchasing view to show incorrect seating order. We have contacted brushfire and they have attempted to adjust seats toward the front. Again, we are extreemly sorry for this error and will work at the door to help make the best adjustments we can. Thank you for your understanding! It is a great show!

Would your family like an all-expense paid trip to Walt Disney Theme Park? We would love to send you. Caldwell Arts Academy is about to start a Read-a-thon Fundraiser. It is a fun and exciting way for your child to raise money while reading. As an added incentive, any child that sends 10 text messages through their dashboard to promote our fundraiser will automatically be registered in a nationwide drawing for the Walt Disney Theme Park trip. *One winner will be chosen each season out of all Read-a-thons held during that season. Click the link below to register:
https://www.read-a-thon.com/readers/r/mHGAua/2
Thanks so much, Caldwell Arts Academy

Dance Showcase T Shirts will be on sale in lobby tonight for $15, and show cookies for $5! Cash or School Pay Accepted.

Caldwell Arts Academy family, do you own or manage a business you would like to introduce to the families of our school? If so, we have something for you, an opportunity to promote your business while championing literacy at our school. We are about to host an online Read-A-Thon. Why is that important? Our Read-A-Thon website will receive tens of thousands of page views. That's thousands of people looking at your brand over and over again! With digital, your business will be the envy of our entire community. One more thing. We will allow one business to be our Literacy Champion. That business will get to promote their brand on our Read-A-Thon bookmark that is given to every student in the school. There are a limited number of spots and they will sell out fast! Click here to reserve your spot today. It would be so exciting to partner with you. Jolain LaMott Caldwell Arts Academy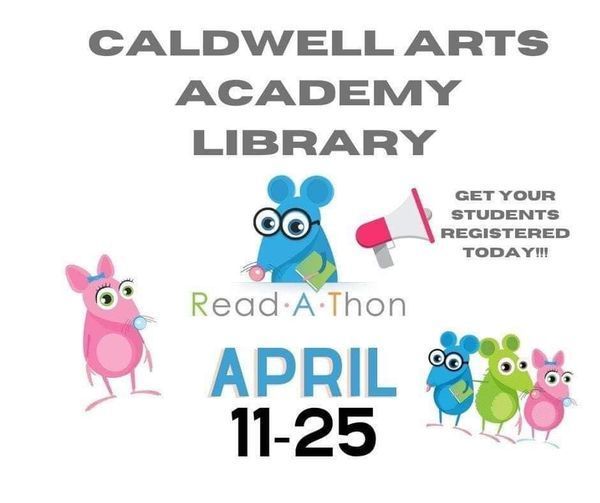 It's National School Librarian Day! What do you love about your Tyler ISD Library or librarian? We would love to hear about the wonderful things happening in our libraries. Tag us at #TylerISDLibraries

National Library Week is an annual celebration highlighting the valuable role libraries, librarians, and library workers play in transforming lives and strengthening our communities. #TylerISDlibraries #NLW2022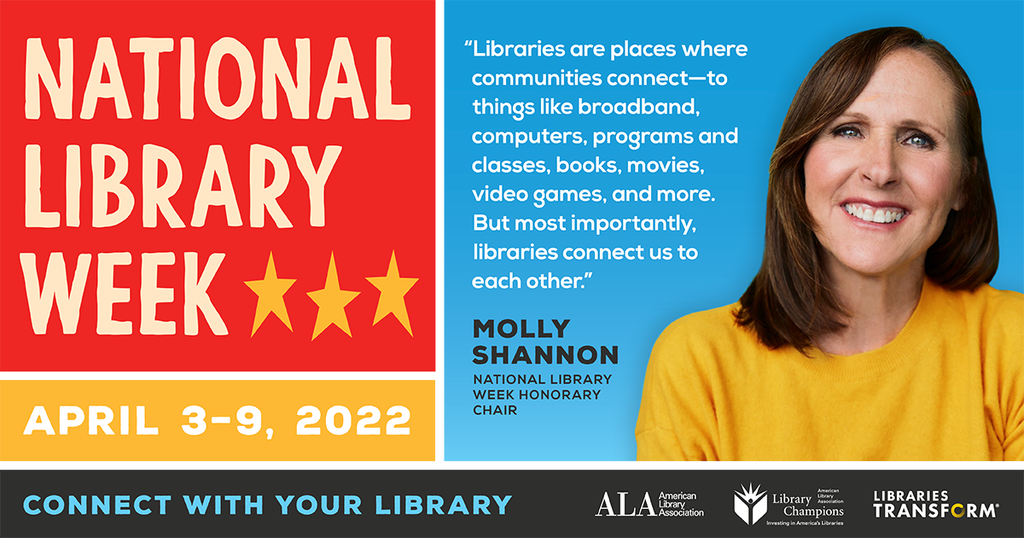 It's time for the Caldwell Arts Academy Read-a-thon! Read-a-thon promises to be a fun, exciting journey that starts Monday April 11, 2022. We will get your children excited about reading. We know you have limited time but want the best education for your child. That's why we hope everyone will activate their reader's account as soon as possible. This is where you can record and view your reader's progress. We encourage you to activate your reader's account today by clicking on
https://www.read-a-thon.com/readers/r/mHGAua/1
and following the simple instructions. K-5 students enter homeroom teacher's name. 6-8 students enter language arts teachers name Thanks so much, Caldwell Arts Academy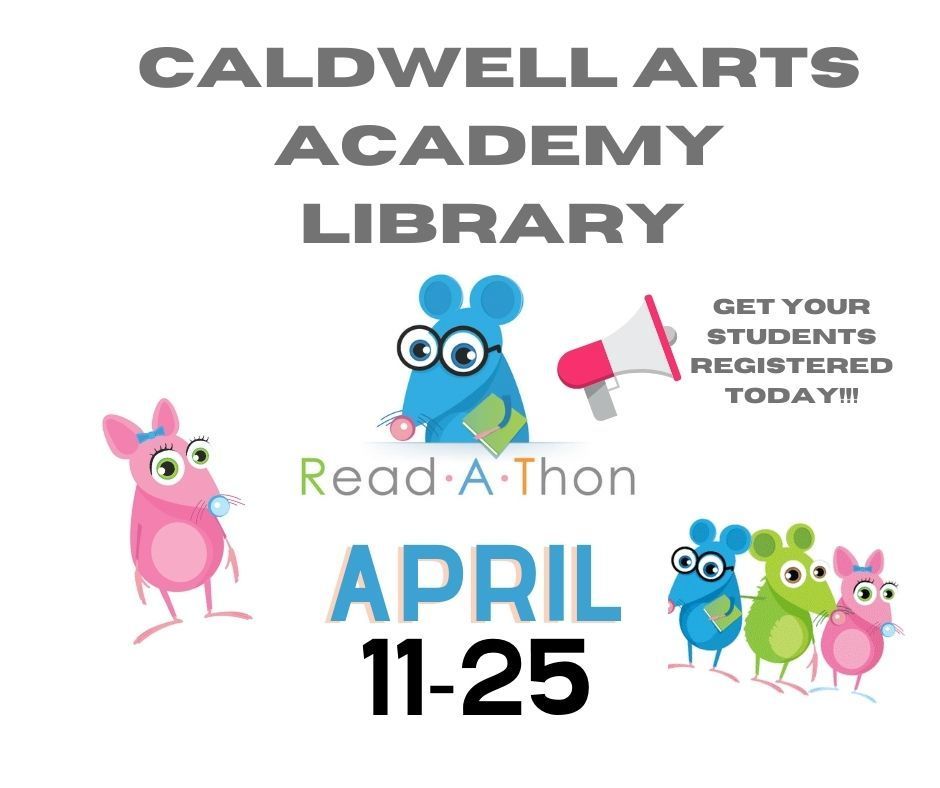 Enrollment is NOW OPEN for ALL GRADES! 🥳 Get started now at tylerisd.org/enroll 🔗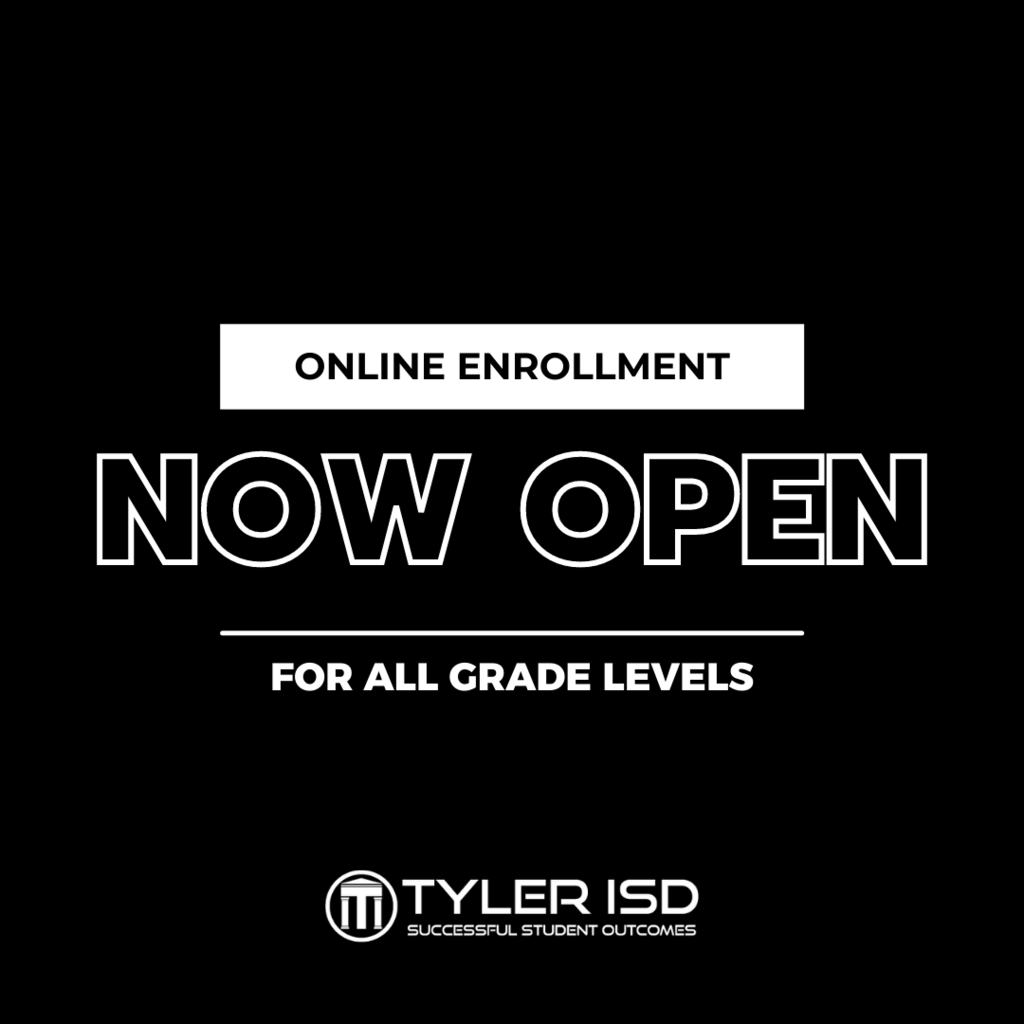 Join us for our Kinder and First Grade Performance of Eiei Oops March 31st @ 3:00 & 6:00 in Caldwell Auditorium!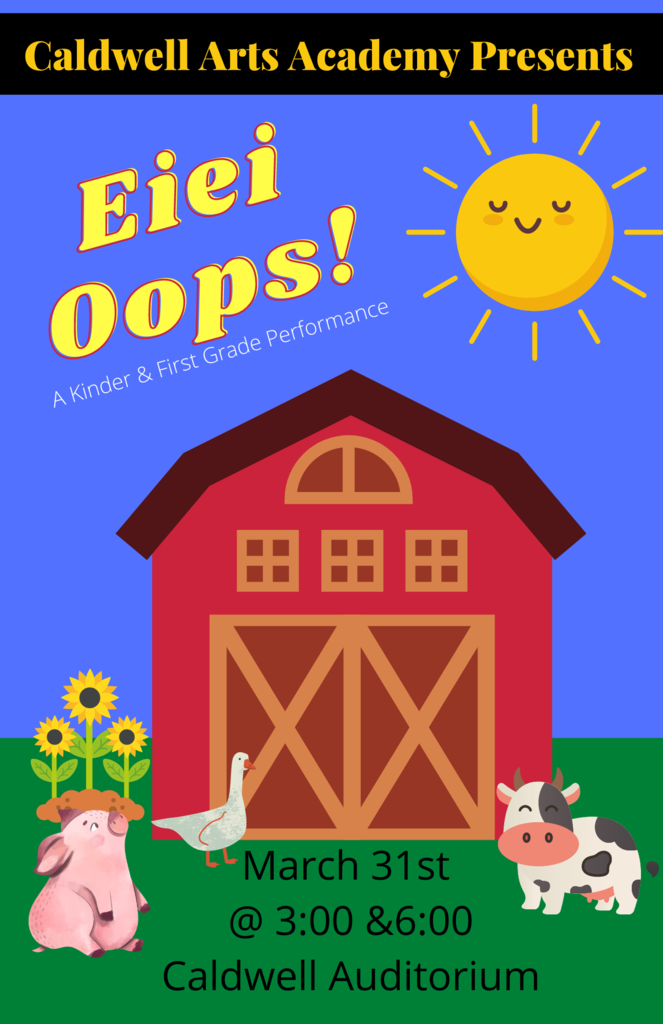 Our 5th grade One Act Play Prep Class Presents Dinner at Eight...Dead by Nine A dinner theater experience. Get your tickets at
www.schoolpay.com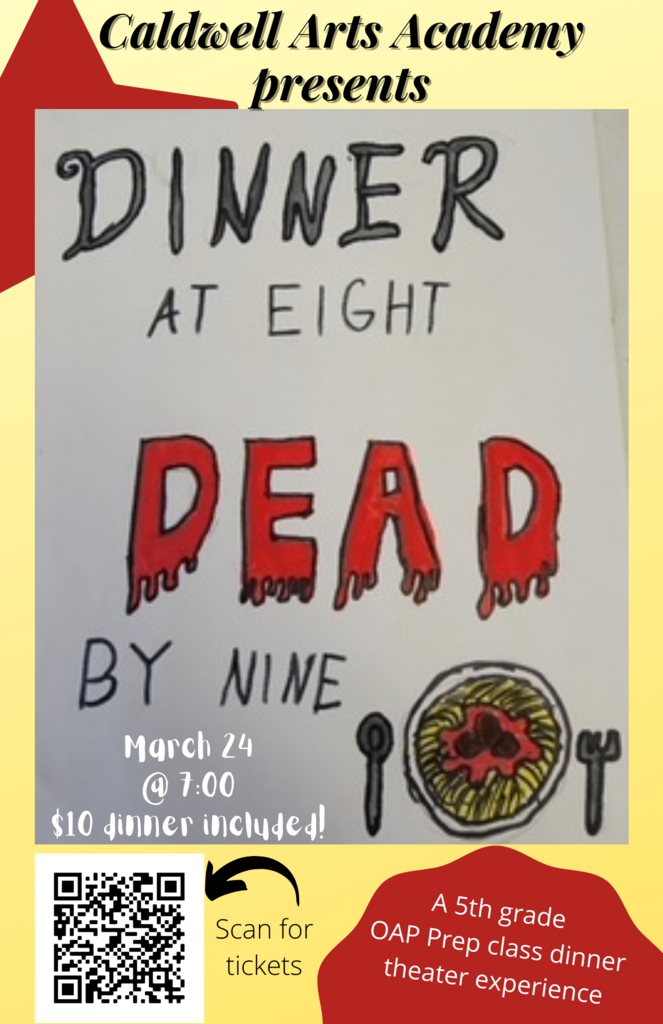 Calling all 5th grade stars! Join us March 3 @ 6:00 to hear about your choices for 6th grade at Caldwell!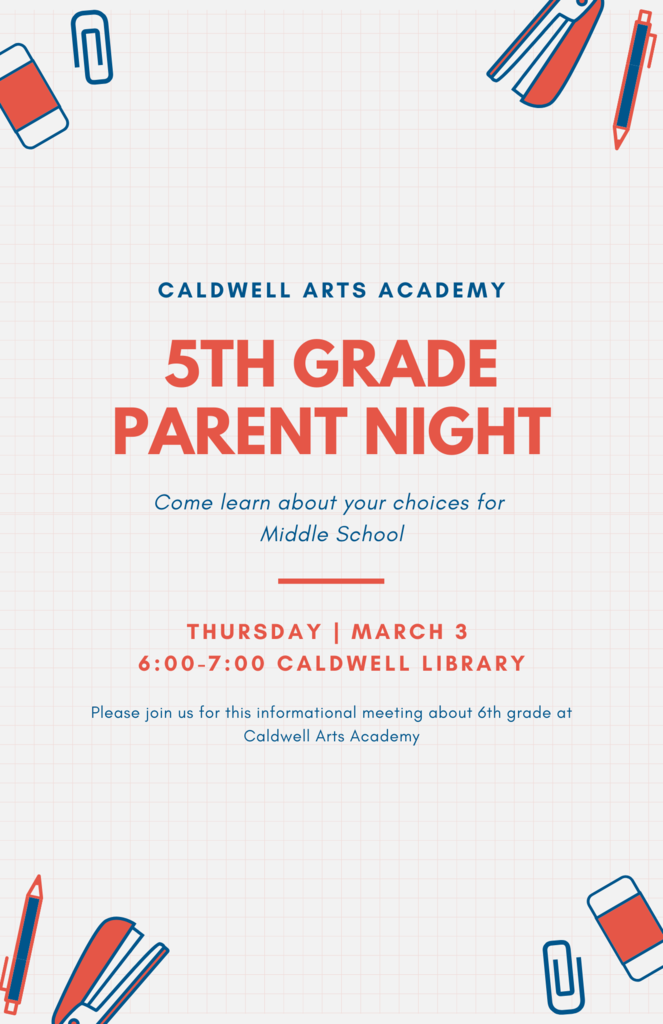 Due to the current weather conditions, the Tyler ISD Elementary UIL Academic Meet originally scheduled to be held at the CTC Saturday, February 5, has been moved to Saturday, March 5, at the CTC.