Tyler Legacy High School senior athletes signed letters of intent to play football at the collegiate level today. The signing ceremony took place in the Field House classroom before the athletes' families, coaches, and teammates.
Tyler Legacy athletes signing letters of intent include:
Eithan Wallace, Football - Lamar University
2 Year Varsity Letterman
2021 2nd Team All-District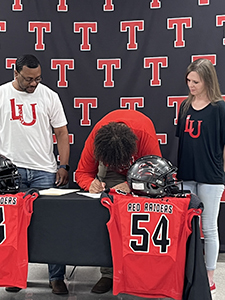 Tyler Legacy Co-Offensive Coordinator/ Offensive line Coach Alan Copeland: "Eithan is a one-of-a-kind student and athlete. He loves the game of football and works hard to help others while pushing himself. He made tremendous progress these last two years. He played on both the offense and defensive line, where he was tough and carried the edge needed to fight in the trenches. I'm proud of the young man he has grown to become and have been honored to work with him. I look forward to watching Eithan chase his dream and excel at the next level."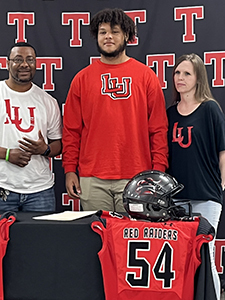 ---
Jordan Ford, Football- Garden City Community College
1 Year Varsity Letterman
2021 2nd Team All-District
Tyler Legacy Secondary Coach Joshua Terrell: "Jordan is a coach's dream player. He accomplished a lot within just one year here. He came in and took over a leadership role that nobody wanted and made a BIG difference not only on defense but in every aspect of the game. Not many people are willing to take on the leadership role, but he embraced it, and I appreciate that. He's someone that every coach would love to have in their program. I'm proud of what he did on and off the field. I hope he continues to be the leader he is. I can't wait to watch him compete and lead at the next level!"