Going to college can be expensive. That's why applying for and receiving scholarships can be of great benefit when preparing for the next phase after high school. Tyler Legacy senior Emily Davidson received a $2500 scholarship from local Tyler business Stonewater Roofing.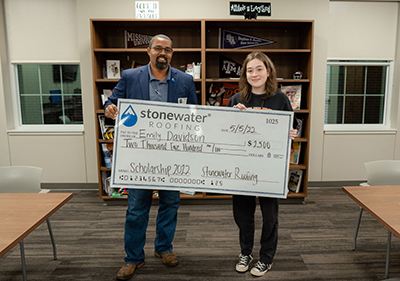 Co-owner Jacob Law speaks on the importance of this scholarship, "Last year we were able to do four scholarships at $1000, and we saw the impact of parents reaching back out, and students have reached back out since going to school so we knew it couldn't stop there and we had to do it again and do it better." Mr. Law also explains that community is important and when they have opportunities to put money back into the community, where better to start than our youth.
Emily shares that this scholarship will help toward her first year studying psychology at Hendrix College in Conway, Arkansas.
Best of luck on your future endeavors Emily and thank you Stonewater Roofing for your generosity toward the future of successful student outcomes!